T
he first step is that we meet and discuss your thoughts, wishes and plans and I'll answer any questions you may have. Then following our discussion, I will begin to prepare a draft wedding ceremony. Together, we'll collaborate and design a unique wedding service tailored to your satisfaction. Your involvement in this process ensures that the wedding ceremony is one-of-a-kind, personal and memorable…a true reflection of who you both are.
From the moment we meet until your special day arrives, you'll be able to contact me, and ask me questions. I understand that planning a wedding can be challenging and that's why I want to ensure that my role as your wedding officiant lightens your load. You can relax; I've got the ceremony covered. As part of that process, I'll also walk you step by step through what you can expect to happen during your wedding ceremony (spoiler alert: there may be kissing at the end!).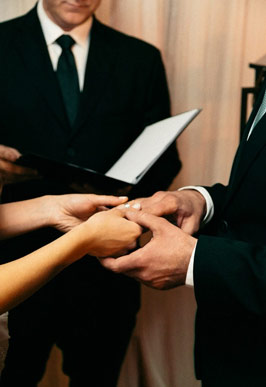 L
ike your wedding gown or outfit, your flower selection or the music for your first dance, your choice of wedding officiant is another important way you personalize your event. As such, be sure to select the person who you feel the most comfortable with, who you connect with and who can best reflect your values and your unique expression.
I would be delighted to be that person and to have the honour of being your wedding officiant on your special day.
My services are available equally to all members of our entire Ottawa community: I proudly solemnize marriages for same-sex couples.
I'm also available upon request to provide personalized services in the Ottawa area for other important life events, such as commitment & vow renewal ceremonies, funerals & memorial services and baby naming ceremonies.

Most ceremonies run approximately between 20 to 30 minutes. Some can be longer and some can be shorter, but the sweet spot seems to be in and around the half hour mark.

As a general rule, I don't. During the busy wedding season, I often have multiple weddings to attend on any given day, and, as rehearsals typically occur the night before, it would be simply impossible for a wedding officiant to attend every rehearsal. Rest assured, as your Ottawa Wedding Officiant, I know what to do and we will discuss this before your big day to ensure you know exactly what you need to do.

Obviously, booking earlier is better, because certain times of year are in great demand. As previously noted, a wedding officiant in Ottawa will often have multiple weddings the same day. I do, however, try to accommodate all requests so long as it does not affect other weddings booked. In addition, last minute or short notice weddings can also be arranged: your Ottawa Wedding Officiant is only a phone call away.

Your investment will depend on the type of tailored ceremony you choose. A last minute wedding with minimal tailoring may be offered for less than a fully customized one. I'd be pleased to discuss this and other specific needs of your wedding. Give me a call and we'll discuss your particular request.

Do you have…
Time, date & location of the event?
A marriage licence which is valid 90 days before the event?
Any special requests?
You'll receive…
In person meeting & follow-ups
A fully customized ceremony
Service in English or French
To reserve a booking…
Contact me by phone or email
Provide a non-refundable deposit
Pay the balance 30 days before the wedding date
On the big day…
I'll arrive 20 minutes early
You will do great
And live happily ever after