Testimonials
Reviews of my work. If you got hitched by yours truly, I would very much appreciate your kind words.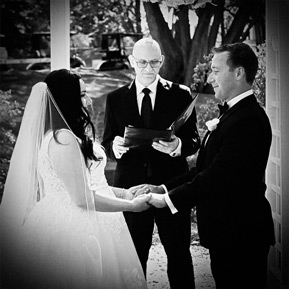 Jenna & Zac
W
e are so happy that we were recommended by our close friend/wedding planner to hire Scott Rothwell to be our wedding officiant. Scott was easily accessible in the pandemic and after postponing a few times, he made sure to get back promptly with his availability. After two postponements, we are glad Scott was available for our third date! Scott provided lots of materials so that we could build our dream ceremony and customize to our liking. With Scott being a lawyer by profession, we knew no details would be overlooked. On the day of the wedding, everything went perfectly—even when emotions arose, Scott made sure to give us time to collect ourselves so that we were ready to enjoy the moment. Thank you again so much Scott for being the perfect officiant for our perfect day. We also appreciate and will cherish the photos you provided of our marriage license being mailed out. Thanks Scott!!
Your newlywed couple, Jenna + Zac.
---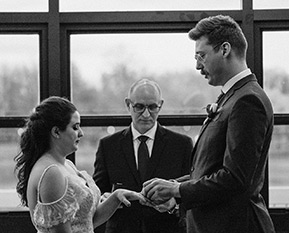 Matt & Cara
S
cott was such a delightful addition to our wedding day. Leading up to the wedding he was very open to any feedback we had to the ceremony script. His thorough questions made our ceremony so uniquely ours. After the ceremony, our guests remarked on how personable Scott was. Although we had just met him this past year, he performed our ceremony as if he was an old friend.
---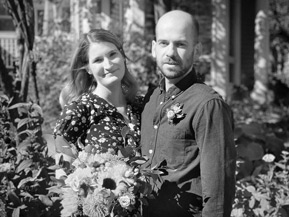 Shannon & Angus
W
e originally set a date for a summer 2020 wedding, when things changed Scott was so understanding and seamlessly rescheduled our wedding for summer 2021. However we then decided less than a week before Thanksgiving that we would still love to have our wedding in 2020. We emailed Scott and to our delight he went out of his way to make himself available. We had a small ceremony on October 11th in Angus's mom's backyard; it was perfect. Our small group raved about how great Scott was and our 1 year old puppy loved it too! We would recommend Scott to everyone, so much so we are having Scott back again at our original venue for a larger celebration in July 2021.
---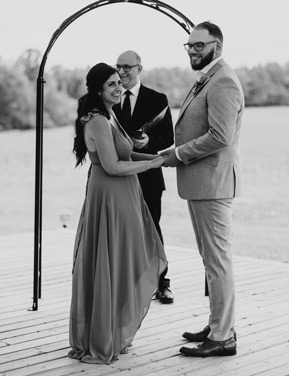 Eric & Vanessa
I
couldn't imagine anyone doing a better job than Scott did on our wedding day. We were set to be married in the summer of 2020 and everything was planned and ready to go, then we were hit with the global pandemic. We went from excited and hopeful to stressed and heartbroken. Eric and I postponed our original date and then decided that we wanted to go ahead and get married anyway, even if it meant we had to change our plans completely. Scott was understanding, empathetic, professional, and accommodating during each step of planning, and re-planning our wedding. He offered wonderful feedback during the preparation of our ceremony words and really made an effort to have Eric and I focus on each other and reminded us often that, "this is your day and this ceremony is for the two of you." Scott's demeanor is friendly, warm, and kind, you feel as if you've known him your whole lives. We instantly clicked with Scott after meeting him. Scott is a man of refreshing candor and his delivery of our ceremony was light, genuine, and sincere. All of our guests commented afterwards about what a great job he did and how much they enjoyed his sense of humor and calming presence. Scott made sure everything was filed properly and took care of all the 'behind the scenes' paperwork, thank you! Scott, thank you so much for everything you did for Eric and I leading up to our unconventional wedding day, you were a dream to work with and we both feel so fortunate to have had you marry us.
---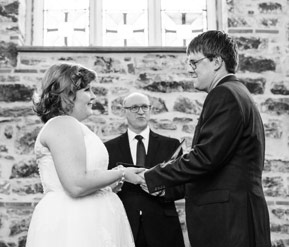 Nicole & Kevin
S
cott—we are so happy and thankful to have had you as our officiant! Your professionalism and candor leading up to our wedding really put us at ease. No matter how many times we went through our script prior to the wedding, we couldn't have anticipated your personal touches and sense of humour during our ceremony. We, and our guests, had a wonderful time and it was in large part due to having you as our officiant. No doubt we will think about this day and your part in making this happen and we will highly recommend you to others in the future. 'Thank you' doesn't feel adequate for the amazing part you played in marrying us.
---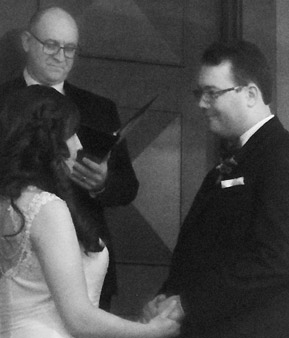 Adam & Elizabeth
A
fter having seen Scott officiate my sister's wedding, he was an obvious choice for our own. During our first meeting with Scott, all our questions were answered as he walked us through the whole process, including important dates and his fees. He also took this time to really get to know us by asking some heart-felt questions. Scott gave us a wide range of passages to choose from and let us customize the ceremony to our liking. Leading up to the wedding, he was very responsive to our questions and offered useful pointers. On the wedding day, his calm and kind demeanour put us at ease, and his sense of humour helped to make the ceremony special and memorable. Thank you Scott!
---
Matt & Katie
W
e cannot say enough good things about Scott Rothwell and the ceremony he performed at our wedding. From the first time we met Scott, he put us at ease with his kind demeanour, professionalism, and humour. Leading up to the ceremony Scott provided us with all the options we needed to make a truly special and unique ceremony. His advice and attention to detail ensured we had created the perfect ceremony for us. On the day of the wedding, Scott put my wife and I at ease as he gave our ceremony with just the right amount of kindness and humour. It was a day we will remember for the rest of our lives and we can't thank Scott enough for the important part he played in it.
---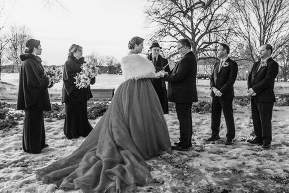 Irene & Michel
W
hen Michel and I decided to marry, we planned it in a very short period of time. A friend had had Scott officiate her wedding in the summer and spoke very highly of him. From the very first email, Scott was attentive, clear in his expectations, of the process, timelines and cost. As we left our first in person meeting, Michel and I knew we had made the right choice. Scott braved the winter weather and delivered a service so sincere some guests thought he was a close friend and were surprised to learn we had only met weeks before. His delivery was on point and humour contagious. Thank you for such a memorable ceremony!
Photo courtesy:
Sean Sisk
.
---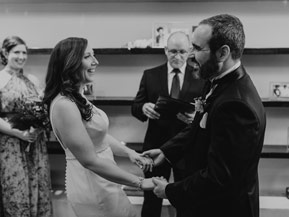 Kate & Dan
I
can't say enough good things about Scott. He was wonderful to work with—straight forward, organized, upfront about his contract and costs and very responsive to emails. Scott gave us helpful advice while we were developing our ceremony and he was a hit with our guests at the wedding. We received countless compliments about how they loved our officiant in particular his delivery and humour. Scott helped to make our wedding day very memorable and we would 100% recommend him. Thank-you!
Photo courtesy:
Anita Peeples Photography
.
---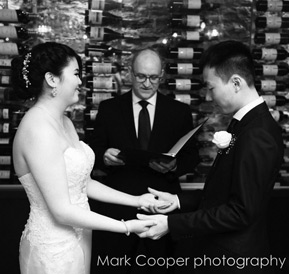 Nancy & Isaac
W
e had such a pleasure working with Scott for our wedding. He let us completely customize the whole ceremony so it felt so personal and special to us. He was efficient, detail oriented and made the whole process such a breeze! He made our guests feel at ease and made them laugh quite a few times too! Although I'm sure if you wanted a more serious ceremony, he would cater to that too. He really made it so that it felt like it was "our" ceremony. Thank you so much Scott for making it the most perfect day!

---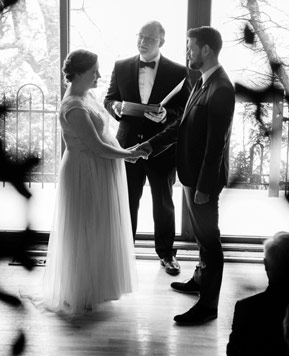 Krista & Richard
S
cott took on our wedding on very short notice and did a wonderful job. He was prompt, professional and always a pleasure to work with. He actually did two ceremonies for us—a legal ceremony in Ontario, and a larger one in Quebec. Both were warm, funny, simple and tailored to us, based on our input. He made our very hectic preparation period much easier than it might have been. We would happily recommend him to anyone in the market for a wedding officiant.

---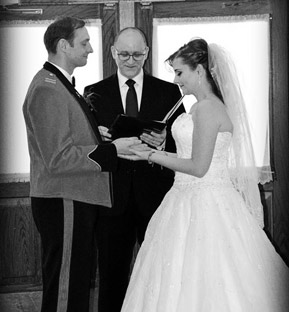 Valerie & Jeremy
S
cott was able to craft for Jeremy and I a wonderful ceremony. He allowed my husband some of his quirks and made the ceremony truly special for us. He made me feel so at ease that there was absolutely no stress on my side and for that I am truly thankful. My normally cool and collected husband was a ball of nerves and that was kinda funny…. Scott was able to roll with all the punches Jeremy threw at him during the ceremony with a great sense of humour which made this event truly unique for us as well as our guests. It was truly fantastic.
I sincerely thank you Scott for the wonderful moment you crafted for us. We will remember it for the rest of our lives.

---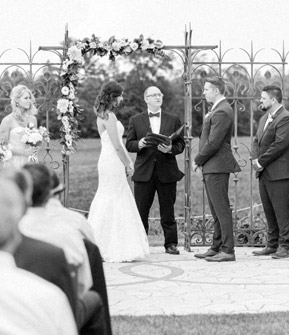 Meaghan & Adam
W
e couldn't imagine a better wedding officiant. Scott is extremely organized and detail oriented. He provided us with a beautiful draft for our ceremony, and let us use our creativity to make it our own. He made our guests feel welcome and comfortable, cueing our readers at the right moments, and making everyone smile throughout the ceremony. He is kind and genuine—our guests could hear this in his voice as he spoke at our ceremony. Scott made our ceremony so personal—it represented perfectly us as a couple, and now as husband and wife!

---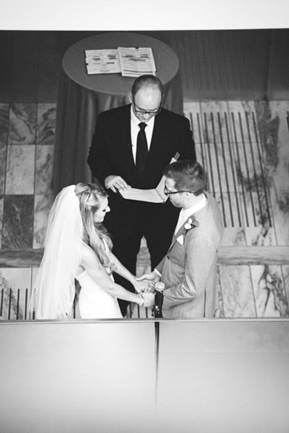 Lisa & Brennan
M
y husband and I used Scott as our wedding officiant this past summer. We were looking for an officiant with a nice balance of seriousness and humour, and of course someone that we felt comfortable around. From the moment we met Scott, he was all of the above and more. He exceeded our expectations on our wedding day by being personable, organized and extremely well spoken. He was the perfect officiant, and we're so happy we chose him to marry us.

---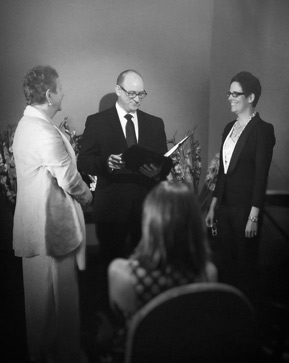 Mary & Sara
M
any thanks for this and for the wonderful job you did at the ceremony. We both appreciated so much your warmth and humour during the wedding and we received many many comments about how much people liked you. You put us both at ease right at the outset. I think we both feel we really were very fortunate in terms of selecting our officiant!

---
Chantele & Adam
W
e had Scott as our Wedding Officiant. He was charismatic and professional, funny and sincere.
I wouldn't suggest anyone else… He spoke loud enough for all to hear, and he was very accommodating. We received many compliments from the guests about how awesome he was. Thank you so much Scott for making our day so special.

---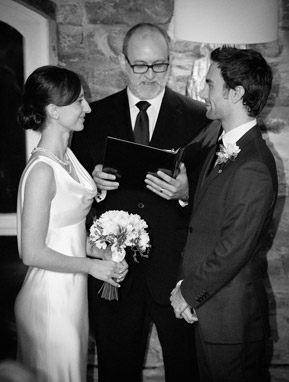 Anna & Jon
F
rom our first meeting with Scott, we knew that he was the perfect fit for our ceremony. Scott was so well prepared and organized that planning the ceremony
was one of the easiest parts of the entire wedding! Scott had plenty of options on how to personalize the ceremony and his advice helped us to achieve the exact ceremony we had always envisioned.
Perhaps what we appreciated most is how Scott was able to make our guests feel welcome and comfortable during the ceremony. His warm personality captured the room
and his perfect use of humor had the guests engaged throughout. Following the wedding, we had many friends and family tell us that the ceremony was one of the highlights of the day and that it truly captured the essence of marriage. We can't thank Scott enough for making our wedding day so memorable. We highly recommend Scott and guarantee that once you meet with him, his kindness and sincerity will have you convinced.

---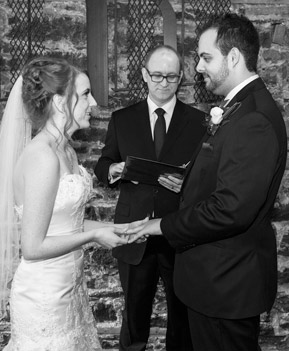 Stephanie & Jonathan
M
y (now) husband Jonathan and I had been very nervous about planning an Ottawa wedding while living across the country in Calgary, Alberta. Upon recommendation through our venue, we had contacted Scott Rothwell. Scott made the process very easy and relaxed by responding to emails very quickly and even offering us a long-distance Skype meeting so we all could get to know each other before the big day!
Scott took great care and attention during our initial meeting, and was able to incorporate a lot of personal details for the ceremony. On the day of the wedding, Scott arrived early giving us plenty of time to discuss ceremony details.
Scott is a fantastic officiant. His outgoing demeanour, witty, and fun personality in combination with his abilities as an officiant truly made our day memorable! All of our friends and family had nothing but positive feedback to say about Scott Rothwell and how great he made our ceremony.

---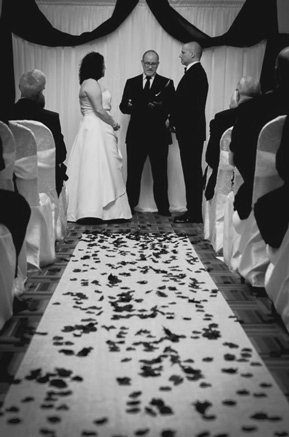 Chantal & Marc
W
hen Chantal and I first met Scott, we knew he was the officiant for us. Scott is welcoming, gentle, intelligent and caring not to mention accommodating. He understands fully that getting married is about what we want and nothing else. Scott gave us samples of previous wedding vows to help us choose an appropriate tone and verbiage for our vows and it was very helpful.
On the day of our wedding, Scott was early and walked us through the entire ceremony and expectations of how it was going to roll out. I have to say, he did a beautiful job and was calm, present in the moment, funny, articulate and made our day wonderful. After the ceremony we had to include Scott in our family photo because he was one of us at that point.

---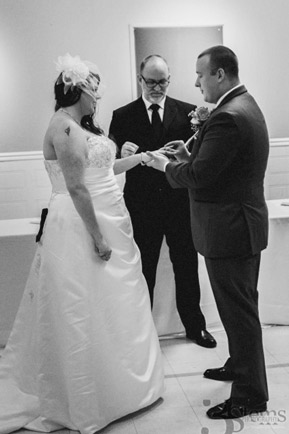 Erin & Matt
W
e cannot thank you enough. You made us comfortable, our guests laugh . . . and we couldn't have asked for a better officiant. I've been suggesting your services on the local Ottawa wedding group and to any friends who are looking to get married.
Thank you once again for your wonderful work and for making our ceremony light-hearted, fun and as stress free as possible.